Company Profile
We are SANE JEN INDUSTRIAL CO., LTD. (Since 1984), a professional manufacturer of warehouse/logistics storage metal container more than 35 years in TAIWAN. We specialized in: - foldable/collapsible wire mesh container - logistics roll cage trolley - stacking frames - metal pallet - wire display shelves - wire decking - wire basket, etc. *All of them are applicable to logistically use, such as Wire Storage Shelves / Basket Shelves / Mesh Decking, Warehouse Storage and Supermarket. *Sturdy product quality by conducting durable materials: iron wire, steel tubes, steel plate and stainless steel

*Our products have high capacity and high quality that qualified as heavy duty.

Application:
* Folding wire containers, folding storage shelf, and stacking frame are efficient in Storage and Transportation of plastic bottles, plastic caps, automobiles' parts, motorcycles' parts, electrical appliances, mechanical hardware, furniture parts and accessories, agricultural product ( onion, corn, garlic, potato, maize, rice, corn ) ... etc.
Several layers' stacking maximize the space of warehouse.
* Trolley transports cargoes productively.
* Wire Shelf displays your products perfectly.


Our core Value : Integrity, Trustworthiness, High-Quality Supply and satisfying Service.
Quality Policy : R&D, Innovation and Persistence. With a sturdy quality control & cooperation with Japanese customers in technology.
Minimum Order Quantity : One 20ft container per shipment.
Delivery Port : Any port in Taiwan or Shanghai port in China.
*Please feel free to place your order in OEM or ODM requirements.

** For further information, please contact us: Email : sj-storage@umail.hinet.net **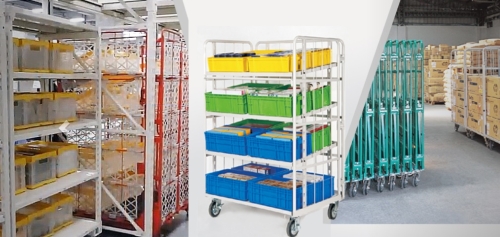 Company & Facilities Introduction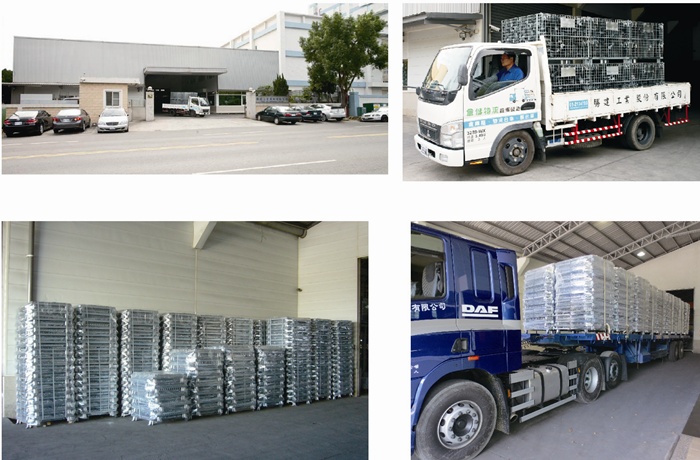 ---
Year Established:1984
Number of Total Employees:30
Brand Name:Sane Jen
Export Percentage:30%
---
Production mode
OEM
ODM
OBM
Business Type
Manufacturer
Design and Research Services
Retailer
Exporter
Trading Company
Export Market
Global
The Middle East
Europe
Africa
Asia (Except China)
North America
Central & South America
Australia/New Zealand
---
Competitive Advantages
We are a professional in the field of:
- Warehouse Storage
- Logistics Transportation
- Supermarket Equipment Products
We have provide high quality products for various industries for almost 35 years.
Product Range:
-Foldable/Collapsible Wire Mesh Container
-Logistics Roll Cage Trolley
-Metal Pallet
-Stackable Frames
-Storage Shelves
-Wire Decking
-Wire Display Shelves, etc.
Our products are durable due to the selections of materials (iron wire, steel tubes, plate and stainless steel).
We mainly serve in OEM, ODM and export to the customers all over the world and have also gained excellent reputation especially in Japan.
Product Advantage:
* Our products are suitable for storage and transportation of plastic bottles, caps, auto, motorcycles, electrical, mechanical, furniture parts and accessories, fruits and vegetables...etc.
* Trolley are a essential tool for transportation.
* Wire Shelf displays products perfectly.
MOQ: One 20'ft container per shipment.
Delivery: From any port in Taiwan, or from Shanghai port in China.
We are confident that we can satisfy our customers by our outstanding product quality and customer services.
** Please Contact Us via email:
sj-storage@umail.hinet.net **
Certification
ISO certification